You would have definitely heard "Content is the king of SEO" – a phrase that has created a buzz among the internet marketers.
While there have been great debates over the efficacy of content marketing for SEO, the crux is that these two disciplines should very well work together to deliver successful results.
Just think about it, in the absence of content, there would be nothing to optimize for the search engines Also write about user. Every blog post, tweet, product description and meta tag is an example of content.
The content we are talking about here does not imply writing lengthy articles or creating catchy infographics.
A good content is anything that communicates a message to the audience and, in turn, instigates profitable customer action.
What exactly is content marketing?
Content marketing means creating as well as sharing content to attract prospects and convert them into buyers. The process is ultimately aimed at helping businesses meet their marketing objectives.
This could either be the acquisition of new customers, informing people about your products/services, or increasing loyalty among the existing customers.
Depending upon the goals of your business, different content types can be produced, such as blogs, press releases, user guides, white papers, webinars, podcasts etc.
The essence of successful content marketing lies in engaging customers, promoting interaction and ultimately fostering long term relationships.
What can content marketing do for your business?
One of the reasons why novice entrepreneurs avoid allocating time and resources to content marketing is because they are not aware of the benefits it has to offer.
Let's start with some of the intangible benefits of content marketing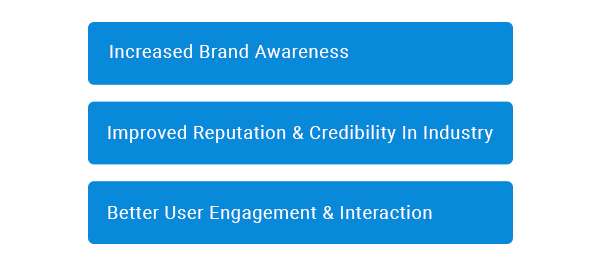 The tangible benefits include:
Now that you have understood the importance of content marketing for SEO, you would probably be wondering 'How can I succeed in my content marketing efforts?'
Here's a quick guide that can help you:
Write content for humans, not computers
The first and foremost rule for creating quality content is to write with the intent of reaching your target audience, instead of search engine bots. Though there is no downside to optimize your content for SEO, it should only be done to a certain extent and in a way that does not affect its quality.
If you write informative, unique and interesting content that engages users, it will automatically boost your search engine rankings
Make sure your content is readable, understandable and properly structured. The tone should be interactive throughout, so that the readers do not feel fatigued or bored.
Do not stuff keywords at unnecessary places as it may have a negative impact on user engagement.
Use bullets and numbers wherever required. Bolden the important facts, statistics and key points. Split long paragraphs into short ones so that the readers can easily skim through the information.
Content needs readers, so choose a topic that interests people
Before you embark on the content creation process, research the type of topics that people are searching for. Identify the audience you want to target through your content marketing strategy.
Determine their age group, gender, location and cultural orientation to create content that is most likely to catch their attention.
Brainstorm different ideas and decide on a content format that best fits your brand's personality as well as provides the information sought by your target audience.
Include images, videos or graphical presentations so that the content seems interesting to read and drives your point across in a better way.
Promote Your Content Through The Right Channels
You've created an engaging and brilliant piece of content after hours of deliberation.
But what next? Despite all your hard work, the content is not going to work for you if it does not reaches the right people at the right time. And social media is the perfect solution for that!
Though there are a lot of social media channels to publish your content, you need to find the ones where most of your prospective customers are present, be it Facebook, Twitter, Instagram, LinkedIn and the like.
Track your content's performance throughout the day to figure out the best time to post. Find out at what times users are most likely to read or engage with your content and schedule your posts accordingly.
Regular Analysis Is Important As Well
After you have created and posted the content, it is important to assess if it is actually improving your business' bottom line.
Frequently review the number of page views, time on page, bounce rate etc. User engagement metrics such as likes, comments, retweets and shares should also be analyzed regularly.
Although your business goals and buyer's persona may differ, these tips will definitely help you kick start your content marketing strategy in a positive direction.