Get a Positive and Impressive Social Relationship to Elevate Your Sales
With Banisoft's social media marketing services, you can enhance engagement, retain customers
and increase sales with full-funnel ROI tracking via our social media service plans.
Request a proposal now for a strategy and pricing!
Increase your brand's revenue through
Banisoft social media marketing services
We, at Banisoft, are a team of experienced & competent social media marketers helping businesses reach out to their target audiences.
We design both organic and paid campaigns that will add value to your brand as well as allow you to engage with potential customers. Our services encompass everything that your business needs to maintain an active and professional presence on social networking websites.
Using our performance-based strategies, you can definitely leverage the power of social media in increasing brand awareness and generating revenue.
In the present online world, it has become extremely important for businesses to be approachable and responsive to the customers round-the-clock.
Hence, maintaining an active social media presence has become even more imperative to monitor real time user engagement, respond to queries, receive feedback and present your products/services to a large number of users.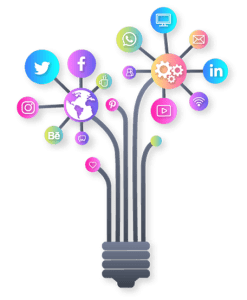 Our team has a wealth of experience in working on different social media platforms, including Facebook, Twitter, Instagram, Google Plus, Pinterest, LinkedIn etc.
You can completely count on us to manage your social presence, while you can concentrate on the expansion of your business. We will create engaging content and informative posts to increase your follower base as well as direct more traffic to your website.
Banisoft's social media marketing services encompass Facebook advertising, which offers an impactful way to engage audiences through text and visuals. With Facebook advertising, you can target your desired audience based on their interests, demographics, and geographical location. Additionally, you have control over your budget by choosing to pay per click or per 1000 impressions (CPM)
Considering Facebook's immense reach, with over 900 million unique users dedicating over 700 billion minutes each month to the platform, advertising on social media becomes an essential strategy. By advertising where your customers spend their time, you can effectively capture their attention and maximize engagement.
Banisoft recognizes the significance of Instagram marketing and offers comprehensive services tailored to harness the platform's potential. Through strategic planning, captivating content creation, and precise audience targeting, Banisoft ensures businesses can effectively showcase their visual offerings on Instagram, driving engagement and fostering brand growth. With Banisoft's expertise, businesses can tap into Instagram's immense reach and connect with their target audience in a visually compelling and impactful manner.
With its status as the second-most popular social platform, it attracts a considerable user base, with a remarkable 74% of users logging on daily.maximize engagement.
Recognizing the immense potential of YouTube marketing, Banisoft offers specialized services to help businesses leverage the power of video content. By devising tailored strategies, creating compelling video advertisements, and implementing precise targeting techniques, Banisoft ensures businesses can effectively engage with their target audience on YouTube. With Banisoft's expertise, businesses can tap into the extensive viewership of YouTube and drive brand awareness, conversions, and overall marketing success through the platform.
Integrating your YouTube marketing campaign with your AdWords account makes advertising on the platform a seamless process.
Banisoft recognizes the significance of LinkedIn as a platform for B2B marketing and provides specialized services to help businesses navigate and succeed in this space. Through targeted advertising campaigns, precise audience segmentation, and compelling content creation, Banisoft empowers businesses to maximize their reach and engagement on LinkedIn, driving valuable connections and fostering business growth.
In terms of LinkedIn Ads, businesses have the flexibility to choose between two payment options: cost per click or cost per 1000 impressions (CPM). This allows for greater control over the budget allocation and ensures that the advertising strategy aligns with specific campaign goals.
Banisoft understands the power of Twitter as a marketing platform and provides tailored services to help businesses leverage its potential. With strategic campaign planning, engaging content creation, and precise targeting, Banisoft enables businesses to maximize their presence on Twitter, connect with their target audience, and achieve their marketing objectives. With Banisoft's expertise, businesses can navigate the dynamic landscape of Twitter marketing and drive meaningful results for their brand.
Regarding Twitter marketing, you can select the desired objective for your campaign, ranging from tweet engagements (retweets, favorites, replies) to website clicks, app installs or engagements, followers, or even generating leads.
What our Services Included
CONDUCTING COMPETITOR ANALYSIS:
Identifying local competitors who are currently excelling in terms of audience size and engagement.
Performing a complete market research of your service areas and industry.
Analyzing successful content and messaging strategies within your industry.
DEVELOPING ENGAGING ORGANIC SOCIAL CAMPAIGNS:
Researching content that resonates with your target audience and generates high engagement.
Regularly posting and scheduling compelling social media content.
Monitoring and actively engaging with your audience to foster interaction.
IMPLEMENTING DATA-DRIVEN PAID SOCIAL CAMPAIGNS:
Creating custom audiences that effectively target your company and brand.
Crafting captivating copy and visuals for high-performing social advertisements.
Conducting split tests to optimize ad copy and improve campaign performance.
Providing comprehensive reports and continuously refining paid social campaigns based on data insights.
TRACKING THE PERFORMANCE OF YOUR SOCIAL CAMPAIGNS:
Monitoring and optimizing audience reach to enhance campaign effectiveness.
Tracking and optimizing engagement rates to encourage active participation.
Monitoring click-through rates and leads generated to maximize conversion potential.
MANAGING AND MONITORING YOUR SOCIAL REPUTATION:
Regularly monitoring social media reviews to address customer feedback promptly.
Tracking social media sentiment and responding appropriately to maintain a positive brand image.
Monitoring social engagement metrics resulting from campaigns and adjusting strategies as needed.
Our 3 Step Social Media Action
Create a unique strategy for your business
It is really important for us to know your brand. For this, we will brainstorm everything related to your business, such as industry trends, key challenges, target audience etc., so that we are able to create a dedicated plan of action. In this stage, we will:
Implement social media strategy
Once we have decided and got your approval for the social media plan, we will work towards implementing it. Our team of journalists, writers, designers and social media strategists will create engaging content as well as build your brand identity. We will also make careful measurements and submit regular reports to keep you in the loop. Our social media strategy implementation phase will cover:
Monitor & optimize the campaign
Our experienced analytics team will monitor and measure the results of the campaign using various tools like Keyhole, BuzzSumo, HowSociable etc. Subsequently, we will present you the report along with the further steps required to achieve the goals. Our social media experts will:
What makes BaniSoft's social media services stand out as
the preferred choice for businesses?
Demonstrate your performance
Banisoft's exclusive Marketing offers comprehensive full-funnel ROI tracking, providing your leadership with quantifiable data on your social media performance.
Leverage the power of our Marketing stratergy and accelerate your ROI by 20% or more with Banisoft's customer data platform (CDP) integrated into Marketing stratergy.
Streamline your strategies seamlessly
Effortlessly align your advertising, search engine optimization (SEO), social media marketing, and more through Banisoft's full service solutions, driving revenue-generating campaigns.
Customize your involvement level
Whether you prefer a hands-off, hands-on, or a hybrid approach, Banisoft's experienced team is flexible and adept at meeting your unique needs.
Elevate your social media expertise
Unlock the expertise of Banisoft's specialist team in social media marketing, advertising, and customer support, collaborating to build a comprehensive strategy that achieves your goals.
Reclaim valuable time by entrusting Banisoft's team to develop, implement, and manage your social media presence, freeing you up to tackle more significant projects.
Empower your strategy with data-driven insights
Receive a tailor-made, data-driven strategy for your social media marketing campaign. Leveraging advanced marketing technology, including artificial intelligence and machine learning software, Banisoft's dedicated social media specialists develop strategies to achieve your objectives.
Banisoft's dedicated social media specialists conduct in-depth competitor analyses, providing unparalleled insights into your competitors' online performance. Uncover their weaknesses and seize opportunities, enabling you to launch the most effective campaigns.
642% Increase In Social Media Posts
Banisoft assists you in making informed decisions for your social media strategy.
Leveraging social analytics, Banisoft enables you to measure and track the performance of your campaigns. In the complex digital marketing realm, understanding the significance of online conversations surrounding your brand can be challenging. Our comprehensive reports provide valuable insights on maximizing results, helping you draw meaningful conclusions from your online content and engagement. With Banisoft's expertise, you can extract the utmost value from your social media marketing campaign and achieve optimal results in a timely manner.
"Today, it's not about "get the traffic" – it's about getting the targeted and relevant traffic." ~Adam Audette Having 1,000,000 visitors to your website sounds impressive, but is it going to help you in achieving your targeted goal? A website with higher ranks attracts more visitors, but it's crucial to ensure increased traffic leads to …
19 Simple Ways to Exponentially Grow the Website Traffic in 2023 Read More »
What Is White Hat SEO? White Hat SEO refers to Search Engine's optimization strategies that are in accordance with the terms and conditions of the major search engines, like Google and Bing. It is also known as Ethical SEO, which is, using only those techniques and strategies that search engines consider to be acceptable. No doubt, Google algorithm incorporates …
What is White Hat or Ethical SEO and Its Benefits Read More »
Pay-per-Click or PPC is quite easy to understand. A firm looking to promote its products or services chooses a platform where it would like to have its ads published. Every time the ad is clicked, the firm pays the platform hosting the ad a specific fee. PPC offers businesses an effective way to drive visitors …
How to Create a Google Ads Campaign That Benefits Your Business Read More »