Hurray! Here's one massive opportunity to boost up your sales up to 40 times through Facebook Messenger marketing.
How?
With facebook's 2 billion + users you can not only advertise your products or services to them but also sent back and forth millions of messages between customers and business every month.
When we communicate with our customers, we use emails (apparently, yes). People love messaging and hate peeping into emails all the time.
So,
Why not use a messaging app, Messenger (which they love) to communicate with instead of using emails (which they hate).
Open rates – 4 times better than email
Click through rates – 10 times better than email
Revenue per subscriber – about 5 times better than email
Quite amazing right? If you are curious, keep reading.MIGHT ALSO LIKE: Complete SEO Checklist for 2020 to Rank Higher
ABOUT FACEBOOK MESSAGING FOR BUSINESS
Communication has been changing for the past 10 – 15 years and it's still not done yet. Particularly Facebook is gaining popularity and is winning over other communication methods.
And, as of 2017, features added to Facebook Messenger has made it a huge platform to set up your brand product and your company apart in the eyes of the customer.
It enables the company to start conversations with the customers, bring out the customers' needs and their feedback and target them through advertising.
Consider the following statistics:
The Facebook page owners can reply to anyone who has commented on their page.This potential tomessage the customer directly is highly powerful. More than 90% of users have access to Facebook on their mobile phones and they are live on Facebook 15 times a day.
If this number doesn't give you goosebumps, think about it – 1.59 billion are just the daily active users on Facebook.
Befriending with the customers on this level changes the business relationships into personal ones.

2. Customers want an instant response and that too NOT from a bot. More than 56% of consumers would prefer to send a message using an app.
Writing Instant replies or messages ahead of time is a huge time-saver that makes you look not only professional but also efficient.
According to Zendesk, the average time for a business to respond should be within 60 minutes.
Your ultimate target can be for "very responsive to messages" badge.
All you need to have an average response time of 15 minutes with a 90% response rate over the last seven days.
Needless to say, if you want to motivate users to connect with you through Messenger, opt for a shorter response time. 
3. Establish your trust and show that you care – Integrating Messenger with customer service allows customers to communicate on their terms. No more waiting calls. 
With direct messaging (that too mobile friendly) the conversation not only stays in Messenger, but also it keeps a record of chat with the customer, thus refraining from starting the conversation from scraping.
You may also reduce labor costs by up to 30% by adding a chatbot to supervise any reasonable proposals for communication and preliminary dealings when your business is closed.
4. With Messenger, you can initiate a private conversation with anyone who either posts or comments on your page.
Viewing the message publicly that the conversation with the specific person has begun in through a private message is certainly a very helpful feature if ever there's a need to handle a situation offline.
5. Assisting in customer service by replying to a customer's complaint on Facebook Messenger, enables an instant opportunity to show validation through social shares and likes.
6. Facebook Live- chat, between customers and business, helps them to build trust and a high level of customer satisfaction.
This improves the communication efficiency between the two and has the highest satisfaction rate – 73 %.

It is the ideal medium to provide customer service, elicit feedback, as well as to target or re-target leads through advertising. Keep reading to learn how.MIGHT ALSO LIKE: Website Redesign – 10 SEO Mistakes to Sidestep
THE EVOLUTION OF SOCIAL CUSTOMER SERVICES
The arrival of Social Media has changed the way of communication.
Social Media has given a new platform to consumers to put their thoughts into words and voice, to explore every corner of the world through their eyes and ears.
"The future of customer service goes through direct messaging on social media," says Conversocial's CEO and founder, Joshua March.
Facebook Messenger is the perfect avenue for brands to connect to and communicate with customers.
The emergence of Facebook Messenger and Social Media for customer services, in combination with SaaS solutions as well as advanced service desk technology, has provided the perfect conditions for rapid change –  where CSM (Customer Support Management) is no longer just customer support, but also about sales and marketing support.
BEST PRACTICES IN MESSENGER CSM (including SALES)
1. Be Responsive
The priority is the customer's expectation for a quick response. Issues can't be stopped, they can happen anytime – even on weekends and at night.
Consider the statistics from The Social Habit:
42% of consumers complaining through social media expect a response within an hour.
32% expect a response within 30 minutes.
57% of consumers complaining through social media expect the same response time at night and on weekends as they would receive during normal business hours.
How bad a slow response time could be?
It can vandalize your brand's name and revenue. An alarming report from the State of Multichannel Customer Service Report, which highlights the impact of poor customer service:
When the rewards are great, so are the risks!
A dissatisfied customer will complain publicly, probably sharing its experience with hundreds and thousands of people and elsewhere – a spine-chilling thought, isn't it! 
But on the flip side, compliments from a customer on social media can create a blind trust that your brand would provide through services.
How?
Facebook displays your business chat response speed on your Facebook Fan Page- (Facebook is smart too!).
Either way, it's great for the customers as well as for the business.
Messenger bots and "customizable Away messages" can be an effective tools for serving customers quickly.
2. Conversational Commerce
Conversational commerce, a term coined by Uber's Chris Messina, refers to the convergence of business/shopping either through messaging and chat apps like Facebook Messenger, WhatsApp, and WeChat or through voice technology, like Amazon's Echo product, which interacts with customers through voice commands.
Customers can chat, ask questions, get personalized recommendations, read reviews, and click to purchase – all from within messaging apps.
On the business front, companies can use chatbots to automate customer service messages. With chatbots, companies can send order confirmations in Facebook Messenger, as well as shipping and delivery notifications.
N.B. – Do not rely much on Chatbots, although useful to cut costs yet always have the support from an expert to answer queries.
3. Upsell
While providing customer support, it is ideal to upsell your product. Entice your customer on how to leverage the services for him. You can also opt for
a. coupon codes or discount codes
b. Wiki sections, case studies, and blogs as personalized content for each service or product you provide and for each type of customer's persona.
FACEBOOK MESSENGER & CHATBOTS
No doubt, Chatbots can augment your online availability, and also can pick up the slack of messages for you. With customers' expectation to have 24/7 online availability on social media, businesses have restyled themselves to automation to meet the growing demand.
To use Facebook Messenger, you need to have a business Fan Page on Facebook.
Chatbots are extremely useful for dealing with simple queries, to provide automated online support when the team is not available.
Why?
It can respond privately to a comment or a post – a quite useful way to let customers know that the authority has acknowledged the issue and has responded privately.
All queries will go to the business's Messenger inbox. No customer can ever send a message to your personal space – whether it be on mobile or desktop.
There are many platforms for creating Chatbots online and most of them require no coding. The simplest option includes:
MANAGE CONVERSATION using INTEGRATED MESSENGER INBOX
One of the hard work to do is to keep up with the volume of messages and requests from customers.  What's even more challenging is that customers want an instant response after they post a message, request, or complaint online.
An integrated inbox can help you out. It integrates the messages of Messenger, Instagram, and Facebook. 
It enables you to keep a check on all three channels without missing any messages. So, take advantage of the Integrated inbox. You just need to connect your Facebook page with your Instagram account.
The ability to reply on the public wall, post comments inside the Inbox, and mark them either 'DONE' or 'FOLLOW UP' are quite useful.  
MARKETING MESSENGER- THE NEXT REVOLUTION
Messenger Marketing is the act of marketing with customers using a messaging app.
Forbes has referred to Messenger Marketing as "the new way to do business."
A whopping 90% of people believe recommendations from friends, and 70% of people prefer to buy based on social media referrals. There's a ton more you can do.
Great support converts to great reviews which in turn brings more sales. Where else can customers share their buying experiences with their friends and family, whether good or bad? FACEBOOK
Why should I use bots? Some facts can help you with:
I'm more than 100% satisfied that messenger bots (Facebook Messenger) are the next big thing in online marketing and it can make your business more fortunate.
So, let me give you some more of those facts:
1.2 billion (yes, billion) people use Facebook Messenger every month. Your potential customer is ALSO using Messenger.
It has the highest rate of engagement in terms of users and potential buyers.
Many prospective customers don't feel like sharing their email addresses. This is called "email fatigue" – it's real.
It provides the highest click rate for any type of traffic.
Messenger is a one-click subscription rather than having to type in email, click submit, confirm email, etc.
Prospective customers can engage in live chat, which helps to close sales faster and with less friction.
Retargeting your Messenger leads is easier, uncomplicated and faster than retargeting email leads.
Messenger is completely mobile and desktop-friendly. Please, no more mobile configuration for emails.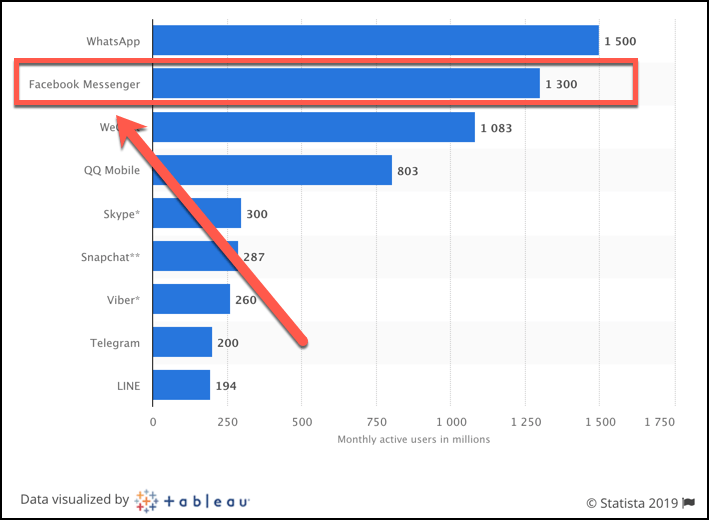 HOW TO GROW YOUR FACEBOOK SUBSCRIBER LIST?
The goal for business in customer service SHOULD BE always – "Make them come back next time!".
Mirror your consumer's behavior and target them accordingly. It makes sense for a brand to engage users on mobile messaging apps first to raise awareness and then later to reengage them on both tablets and using secondary advertising.
A good example of this is onsite retargeting – specifically designed to lengthen your Facebook Messenger list.
When done correctly, onsite retargeting can help you recover your potential users before they abandon your page, and give you a second chance to convert them into subscribers.
MIGHT ALSO LIKE: How Facebook Ads Can Boost Your E-commerce Business
CONCLUSION
Consumers are increasingly demanding more and more from their chosen brands, a conversation and a relationship that they can feel a part of and contribute to.
By engaging your customers, a business can benefit greatly from feedback. It's a win-win for both business and customers since business wins loyalty and customers get better products which results in making them happier, later who will buy more.
With Facebook's 2 billion+ + users, you can not only advertise your products or services to them but also send back and forth millions of messages between customers and businesses every month.